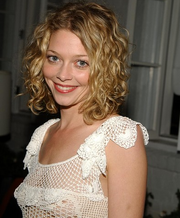 Margot is Riley Perrin's mother. In the episode, "Send in the Clowns" it is revealed that she was pregnant around the time that Riley was born while Tucker, Riley, and Danny are watching home movies. It is also revealed that Riley's "mother" was not pregnant. Riley did not see this part and contacts Margot.
Later in the episode Riley asks Margot about this to which she tells her she gave the baby up for adoption. Danny shows up and puts ketchup on her shirt prompting Riley to go to the bathroom to clean the stain. Danny then tells Margot that he knows that she is Riley's mother and Margot makes Danny promise not to tell her. Later at Emma's party at the ice cream shop, Riley is talking to Bonnie about Margot. Not knowing that Riley did not know she was adopted, she unwittingly told her that Margot was her mother.
Riley then goes to the freezer to cry and very typically eat ice cream. Danny follows her in there and is then followed by Margot, who he called. Margot tells Riley that she loved her so very much, that she had to give her up so she could get the best life possible as she was still in high school at the time. Riley and Margot make up after their conversation.