—So you know my cat's last name.
---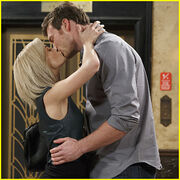 About her
Ashley was Danny's girlfriend for 6 episodes. She was the next door neighbors granddaughter. Who was a huge fan of the Rangers especially Danny. She is said to know every important play of his. She started to date Danny soon after, when he broke up with Robin (former girlfriend).
Breakup
It wasn't clear on how they broke up. However, Danny forgot her last name. Which stirred up problems, he made up ways to find out by (fake survey, asking questions, guestbook). Later she finds out and they have a little fight. However, Danny finds a way to get her back by saying "I know you have two freckles on your back". They hug and Ben walks in saying 'the two freckles line works every time". They stop hugging, later on you see them on the steps. Possibly breaking up. In "What Happens In Vegas" Danny says he is single. Meaning they broke up. She is not shown further more.